The Daily Struggle of Cloud and FinOps Professionals
Navigating the cloud ecosystem comes with its set of challenges. Managing costs, optimizing resources, and ensuring scalability can often feel like a juggling act. The right cost optimization tools, however, can turn these challenges into manageable tasks.
As cloud technology continues to evolve, businesses need innovative tools and features to keep up with the rapid pace of change. For anyone concerned about rising cloud costs, one of the most transformative solutions available today is our newly released cloud cost trend analysis and anomaly detection set of features.
Designed for cloud professionals, including Cloud FinOps, the new features offer a deep analytical perspective on cloud usage patterns, enabling businesses to optimize resources, manage costs effectively, and forecast future costs more accurately.
New in Hyperglance v7.4
Our new cloud cost trend analysis and anomaly detection feature is a game-changing tool that provides businesses with deep analytical insights into their cloud usage patterns over time.
This feature recognizes and understands data patterns, paving the way for better forecasting and ensuring smoother budgeting and optimal resource allocation.
Additionally, it can instantly highlight any unexpected variations in cost data, enabling swift action to address potential issues or take advantage of sudden opportunities.
Feature Spotlight
Cost Monitoring and Analysis

: The dashboard displays total costs, month-to-date expenses, and projected costs. This enables users to actively monitor and manage their cloud expenses, ensuring no unexpected costs.

Historical Data Analysis

: The graphical representation of trends over the past 90 days (or other selected time frames) allows users to track changes, spikes, or drops in resources and costs.
Cloud Cost Trend Analysis in Hyperglance
Customized Insights with 'Breakdown By'

: Tailor your data visualization based on attributes like Service, Region, Account, and more.

Color-Coded Analysis

: Easily differentiate between resource types.
Filtering To Help Trend Analysis in Hyperglance
Trend & Anomaly Visualization

: Clear graphs, confidence shading, and anomaly markers for swift insights.

Detailed Info on Hover

: Exact spend amount, deviation details, and more at your fingertips

Statistical Spend Analysis

: Data-driven alerts using standard deviation and accurate forecasting for efficient budgeting.
Cloud Cost Anomaly Detection in Hyperglance
Holistic Resource Overview

: Dive into both volume and types of resources utilized, aiding in optimization.

Date Range Selection

: Customizable insights for specific periods.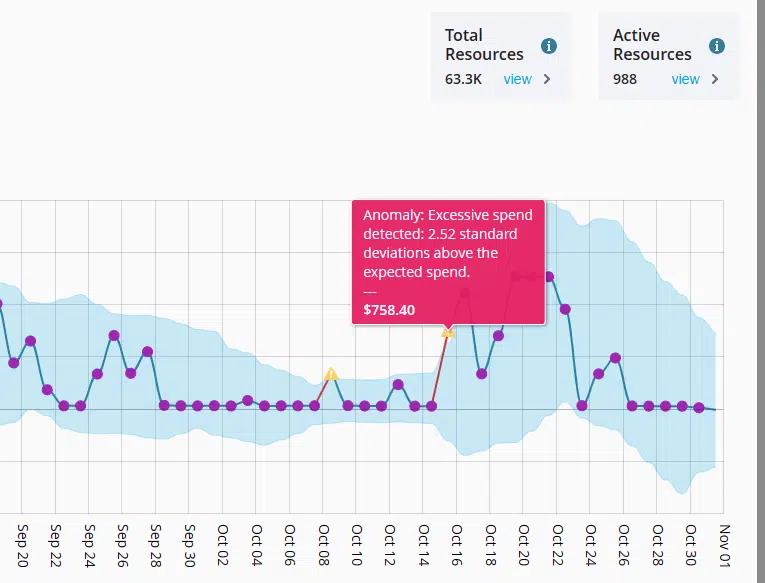 An example of a Cloud Cost Anomaly in Hyperglance
Addressing FinOps & CCMO Pain Points
Cost Management

: Managing costs in the cloud can be a daunting task for businesses. However, with Hyperglance's "Trends and Anomalies" feature, businesses can gain clear visibility into their spending patterns, predict and curb unnecessary costs, and minimize unexpected costs that impact budgets and business operations.

Resource Optimization

: Provides businesses with insights into resource utilization patterns over time. This enables businesses to optimize resource allocation, avoid underutilization or waste, and ensure that resources are deployed where they are needed most.

Time Efficiency

: By providing a consolidated overview of cloud usage and cost data, cloud professionals can be freed up to focus on strategic activities rather than analyzing heaps of data manually.
Interested in product updates, cloud news and tips?
Join 5,700+ cloud professionals who have already signed up for our free newsletter.
By subscribing, you're agreeing that Hyperglance can email you news, tips, updates & offers. You can unsubscribe at any time.
Common Use Cases
Here are some scenarios where Hyperglance's cost optimization features can help you optimize your organization's cloud infrastructure:
Optimizing Resource Allocation

: By providing insights into resource utilization patterns over time, Hyperglance can help businesses optimize resource allocation and avoid underutilization or waste.

Forecasting Future Costs

: Hyperglance analyzes historical data trends, enabling businesses to forecast future costs more accurately. This helps businesses to plan and budget more effectively and avoid unexpected costs that impact budgets and business operations.

Detecting Shadow IT

: Shadow IT can contribute significantly to an organization's cloud costs while exposing organizations to potential security risks. Hyperglance can help businesses identify and track such cloud usage across their organization, ensuring compliance with organizational policies, and enabling better management of cloud costs. By detecting shadow IT, businesses can proactively mitigate risks and optimize their cloud usage.

Identifying Security Breaches

: Using Hyperglance can help businesses detect any unusual activity or spending patterns that may indicate a security breach. This enables businesses to quickly address potential threats and protect their cloud infrastructure.
When is Hyperglance 7.4 released?
The new features are available now.
If you have automatic updates configured already, the new release is available immediately. It will be downloaded and updated automatically - it's that simple!
If your environment is not configured for automatic updates, then you can take advantage of the new release by following the simple instructions in this knowledge base article.
Regardless of whether your updates are automated or manual, all existing settings and configurations remain intact after the upgrade. The only changes you will see are the new navigation UI and additional features!
Who will get access to auto-sync?
All Hyperglance customers with up-to-date installs will get access to the new features.
How much does it cost?
There's no extra cost. The new features are included in your standard Hyperglance package.
Hyperglance - Cloud Management You Control
Hyperglance gives you complete cloud management enabling you to have confidence in your security posture and cost management whilst providing you with enlightening, real-time architecture diagrams.
Monitor security & compliance, manage costs & reduce your bill, interactive diagrams & inventory, built-in automation. Save time & money and get complete peace of mind.
Book a 30-minute demo today, or experience it all, for free, with a 14-day trial.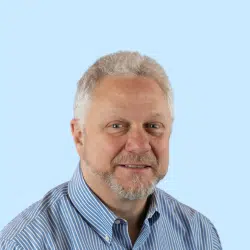 About The Author: Stephen Lucas
As Hyperglance's Chief Product Officer, Stephen is responsible for the Hyperglance product roadmap. Stephen has over 20 years of experience in product management, project management, and cloud strategy across various industries.