AWS re:Invent 2023
Monday Nov 27th - Friday Dec 1st, 2023 (Las Vegas, NV)
It's rapidly approaching that time of the year again - re:Invent is just around the corner!
With numerous Las Vegas conferences under my belt, I thought I knew what to expect, but my first AWS re:Invent experience was a whole new ballgame.
Talk about overwhelming!
An astounding crowd of over 60,000, spread across 6 hotels, and an avalanche of insightful sessions.
At times, it might seem like an amusement park - shelling out a pretty penny for the privilege of waiting in line!
Regardless of the chaos (which seems to intensify each year!), I can't resist the allure of returning!
Over these annual journeys, I've amassed a trove of survival strategies. A blend of personal learning and shared wisdom.
So here they are - my top tips for navigating the world's premier cloud conference (and the illustrious Vegas strip!). Heed this advice, and you'll hit the ground running at AWS re:Invent 2023.
1) Register Using a Unique Email Address
Something that I really recommend this year is the use of an alternate email address for registration.
Why bother with an alternate email, you might ask? Well, the answer lies deep in the bustling atmosphere of the expo. With numerous exhibitors, attendees, and scanners, your inbox quickly gets inundated with promotional emails, updates, and notifications.
Don't get me wrong, these comms are often valuable, but they'll quickly clutter your inbox, making it challenging to sift through and find the information that really matters.
To avoid this, register for the event using a unique email address. If you're a Gmail user, this can be as simple as appending "+reinvent" to your username. For example, if your email is "[email protected]", you can register with "[email protected]".
This nifty trick creates a unique email alias that directs all messages to your primary inbox, but with a uniquely filterable address.
Once you've registered with this alternate address, you can set up a specific email rule or filter in your inbox. This rule can automatically categorize or even move all incoming emails from the expo into a dedicated folder.
The result is an inbox that's easier to manage and a bit more zen.
2) Book Your Sessions ASAP Using The App
A big one to kick the list off.
There are so many people at AWS re:Invent that you have pretty much zero chance to get into a good session if you haven't booked it using the app before the conference.
The first time I arrived in Vegas, I checked out which sessions I wanted to attend... then realised I could only get into a handful of them.
3) Pick The Right Hotel
Try to stay in the hotel that has the majority of sessions you are interested in. For 2023, there are 6 hotels being used for events that span a good portion of the strip.
It's a long way from the Encore to the Mandalay Bay! There is nothing better than just being able to walk to the session from your hotel or being able to pop back to your hotel room during the day to freshen up.
Many times you'll have an hour or two free and there really aren't enough seats/chill-out areas in places like the Venetian.
Check the session schedule and see if there is a good portion of the sessions in one place and book that hotel.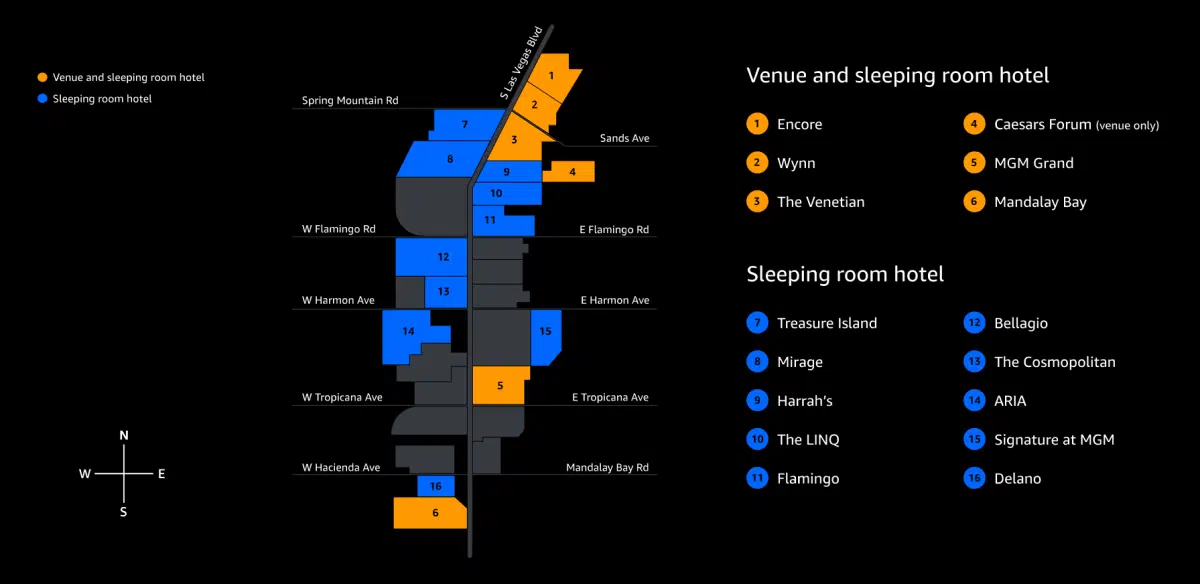 4) Wear Comfortable Shoes
The hotels and conference centers are huge.
The Las Vegas strip is almost never-ending.
Everything is massive!
Like it or not, you'll need to be on your feet a lot to get the most out of your experience.
It's a tiring mix of walking, standing and queueing.
Make sure you bring at least one pair of good quality, super comfortable shoes.
5) Overflow Rooms Work Pretty Well
If you can't get into a session, look out for overflow rooms - they have a large screen and headphones for you to watch the sessions that are taking place.
Some of the overflow rooms will have multiple screens showing different sessions so you can session hop just by walking a few steps!
6) Talk To As Many People As Possible
I'm normally in information-gathering mode, so I tried to talk to as many people at the conference as possible.
I was very surprised at the variety of companies people worked at and I learned a lot about the different use cases and different scenarios people used AWS for.
Everyone is there to learn; you never know, the person you talk to next may already have an answer to that tricky project you need to complete when you get back!
By subscribing, you're agreeing that Hyperglance can email you news, tips, updates & offers. You can unsubscribe at any time.
7) Organize Meet-Ups In Advance
One of the best things about conferences is the number of people who you already know that will be there with you.
The trouble is, with thousands of people spread across multiple hotels, you're not just going to bump into them on your way to the bathroom.
It's best to try and organize as many meet-ups (and/or drinks) as possible beforehand.
Meet Hyperglance at re:Invent 2023
If you'd like to see Hyperglance in action, or just chat to us about your AWS challenges, let's meet there.
8) Avoid The Shuttle Bus At Peak Times
There is a handy AWS organised shuttle bus that runs between the various hotels, but... there are horror stories of it taking over an hour just to get between the MGM and the Venetian.
Ouch.
I'd urge you to consider using one of the faster, albeit more expensive options (Rail, Uber, Lyft, etc).
They are still relatively cheap compared with the time you'll save... and, let's face it, you probably spent a fortune getting to Vegas in the first place.
Don't risk missing an important session for the sake of $30!
9) Skip The Keynotes
... or just watch them via streaming from your hotel room.
If you're anything like the majority of us, you'll have a day job that needs to be attended to even if you're at Re:Invent.
I don't find that I need to attend the keynotes in person, they are generally packed and you can't ask questions anyway. I usually just stay in my hotel room and work during the morning keynotes or meet a friend for coffee/lunch/drinks for the afternoon keynotes.
10) Leave The Strip For Food At Least Once
The strip and its numerous casinos are jam-packed with great bars and restaurants. But, sometimes it's good to get away and try something new.
A personal favourite of mine is Hobak Korean BBQ. I try to get there every time I stay in Vegas. Great BBQ at a reasonable price, and it's only a 10/15 minute Uber ride away.
11) Don't Be Afraid To Talk To a Presenter
All of the AWS staff and other speakers are more than happy to talk to you about what they just presented.
If you have a particular question, get up there and ask it after they have finished.
Just be mindful that they may be in a rush to get to the next session (like most people) so keep it concise, or see if you can agree to meet or connect with them separately.
12) Try Some Extra-Curricular Activities
AWS are nice enough to put on quite a few extra-curricular activities that are worth checking out.
My personal favorite has always been the, now-infamous, Tatonka Challenge. I was a bit dubious at first but it was a hell of a lot of fun and you know…. free chicken wings! What's not to like?
Of course, your mileage will vary but have a look at the options and give one a go!
13) Rest in Overflow Rooms
All that time on your feet inevitably takes its toll, especially towards the latter part of the week.
There aren't many places to take a load off your soles; you'll see people just sitting down in the corridors, hoping that they can overcome the potent mix of jetlag, sore feet, and dehydration.
So, if you need to rest, head for your nearest overflow room and you'll usually find a seat.
14) Less Can Be More
It's difficult to avoid the fact that it takes a long time to get between hotels.
Often, rushing around makes things less enjoyable too - that's not going to make you more productive.
Don't beat yourself up for missing a few sessions if you're feeling burnt out. It's the right thing to do.
15) Use the Monorail
Transit can be a breeze with my next tip: use the Las Vegas Monorail. It efficiently connects key event locations, including the MGM Grand, The Venetian, and the Wynn.
Choosing the monorail offers several advantages. It's quick, reliable, and bypasses the notorious Las Vegas traffic. Plus, it's an eco-friendly and cost-effective alternative to taxis or rideshares.
16) Make Space for Swag
At AWS re:Invent, the swag game is strong!
Venture in and you'll marvel at the vast array of businesses showcasing their innovations.
Almost every booth entices attendees with unique and often interesting swag. From quirky to practical, there's something for everyone.
So, my little tip? Reserve some extra space in your luggage!
17) Bring Your Own Tea
And finally, this one is largely for the Brits (and maybe Aussies & Kiwis) out there.
The tea on offer at re:Invent has a track record of being pretty ghastly - my advice would be not to bother with it.
Instead, bring your favorite variety from home and use the hot water they provide in between the sessions. Hey Presto!
PS - There are Starbucks all over the place, if that's your thing!
Love re:Invent? Then you'll love Hyperglance.
Hundreds of AWS professionals already trust Hyperglance for their cloud management. Built by cloud engineers, for cloud engineers - Hyperglance diagrams your cloud and tracks your assets in detail at any scale, providing your team with continuous security, compliance, and peace of mind.
If you're interested in finding out more, or you'd like help getting started, schedule a demo with one of our experts.